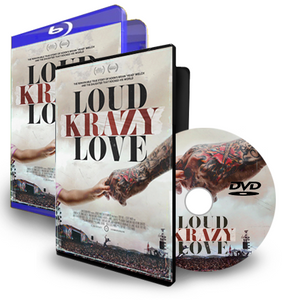 Loud Krazy Love (DVD & Blu-ray)
Regular price $19.99 $17.99 Sale
Loud Krazy Love is a gripping documentary exploring the life of Brian "Head" Welch of the metal band KoRn and his journey to become a good father and the remarkable true story of KORN's Brian Head Welch and the little girl that saved his life.  
Available Now on DVD and Blu-Ray
"Best Feature Doc Audience Award" Dallas International Film Festival
Grand Jury nominee at the

 

Nashville Film Festival

 

Received critical acclaim from audiences following its premiere on

 

Showtime.
LOUD KRAZY LOVE
Produced by I Am Second Media and Ditore Mayo Entertainment, "Loud Krazy Love" documents the remarkable and touching true story of two-time Grammy-winning artist Brian "Head" Welch and his daughter Jennea.
Billboard described "Loud Krazy Love" as "part rock doc, part faith testimonial, part family drama." It's a fearless coming-of-age story that grapples with faith, teen depression, the quest for identity and the hope of a father willing to do anything for the one he loves. The film explores the relationship between the Welches and how Jennea saved Brian's life, as he walked away from a $23 million record deal and overcame a crippling addiction to drugs to focus on becoming a good father.
"When I watch 'Loud Krazy Love', I'm amazed at where Jennea and I have been compared to where we are now," said Brian. "Our relationship was broken and strained before I made a conscious choice to change my habits and my life. Today, our relationship is stronger than ever. If all the pain and heartache we went through can help others, then it was all worth it."
"This film has resonated with so many different people because while Brian and Jennea have unconventional life circumstances as a rock 'n' roll family, the issues they faced are those with which all can relate," said John Humphrey, vice-president of I Am Second and producer of "Loud Krazy Love".
In addition to chronicling Brian and Jennea's journey, "Loud Krazy Love" also gives exclusive access of Brian on tour and at home, in-depth interviews with him, his family and his bandmates, and two decades worth of never-before-seen material from Brian and his multi-platinum-selling band KORN.
"Loud Krazy Love" is directed by first-time feature filmmakers Scott Mayo and Trey Hill and produced by Humphrey and Samuel Ditore of Ditore Mayo Entertainment.